"White Gold" or "Bloody Teeth"?
97,235 signatures toward our 100,000 Goal
Sponsor: The Rainforest Site
Call on China to stem the surging demand for illegal ivory that is fueling the slaughter of Africa's remaining elephants.
---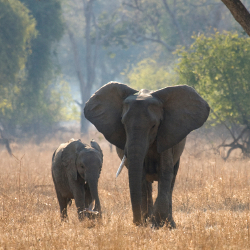 After facing decimation in the 1980s, a global ban on ivory sales barely saved Africa's elephants from extinction.
Then, in 2008 the Convention on International Trade in Endangered Species (CITES) agreed to unleash stockpiles of ivory in a "one-off" sale to China, and the decision kicked off a surge in demand for the coveted "white gold". Rather than reduce the need for black-market ivory and the poaching that supplies it, China's growing middle class wants more.
And they are willing to pay for it. Soaring prices encourage more poaching and attract the attention of armed rebel groups, corrupt government officials, and international criminal organizations. The profits, in turn, fund other illegal activities elsewhere in the world.
2011 and 2012 were especially lethal years for elephants, smashing previous records for illegal ivory seizures, typically captured en route to China. The trend shows no sign of slowing.
Petition the Chinese Ambassador to the United States to help reverse this bloody path towards extinction.
More About This Issue
2011 was a record year for seizures of illegal elephant ivory — 24.3 tonnes, or the ivory of approximately 2,500 dead elephants — surpassing the previous four years combined. Then, in December 2012, customs officials in Malaysia uncovered a single shipment of over 24 tonnes, surpassing all of 2011's seizures combined. And the trend shows no sign of slowing.
Known incidents include:
September 25, 2013: Zimbabwe's Tourism Minister Walter Mzembi confirmed 40 additional elephants have died after poachers poisoned a water hole in Hwange National Park. This latest news brings the total of poisoned elephants to 81 this month, in addition to the unknown number of smaller animals that also rely on the watering.
September 6, 2013: Zimbabwe authorities report that poachers poisoned 41 elephants in Hwange National Park.
August 7, 2013: In the second seizure in less than a month, Hong Kong customs official intercept another 1,120 tusks, bringing the total to over three tonnes of illicit ivory seized in transit from Africa to China.
July 18, 2013: In another seizure this year, Hong Kong customs seized another 1,148 tusks, weighing over 2,000 kilograms and worth more than $17 million (USD).
July 17, 2013: In two separate busts in less than a week, authorities at Kenya's Mombasa Port seize 4.5 tonnes of ivory en route to Malaysia.
May 1, 2013: In yet another bust this year, Dubai customs authorities seize 259 elephant tusks, pushing the total over 5 tonnes of captured contraband ivory so far in 2013.
May 10, 2013: Park rangers confirm that poachers killed 26 elephants in Dzanga-Ndoki National Park, using the same observation platforms scientists use to study the elephants.
April 30, 2013: Hong Kong customs officials intercept a shipment of 113 tusks, or 300 kilograms, worth approximately $3 million (USD).
Mid-March, 2013: Over the course of a week, poachers slaughter 86 elephants, including 33 pregnant females.
January 30, 2013: Custom officials in Singapore uncover a shipment of 1.8 tonnes of ivory.
January 16, 2013: Kenyan police intercept two tons of ivory at Mombasa port
January 5, 2013: Poachers kill an entire family of 12 elephants outside Tsavo National Park in Kenya.
January 4, 2013: Hong Kong port authorities confiscate 779 tusks (approximately 1.3 tonnes) shipped from Kenya
Want to do more to help elephants?
To Top
The Petition:
Dear Chinese Ambassador to the United States:
As long as there is a market for ivory, there will continue to be a demand. Far from reducing demand, the 2008 sale of stockpiles in China has only whetted the world's appetite for additional ivory, driving up prices for this coveted "white gold". Rising prices, in turn, have corrupted government officials and attracted organized crime. And as the New York Times observed, the availability of legally sanctioned ivory has provided the "ideal legal camouflage" for smugglers to launder their illicit goods. And African elephants pay the ultimate price.
In just one example, a recent study published in the scientific journal PLoS One illustrates the consequences for Africa's elephants. According to the research, populations of forest elephants in Central Africa, highly valued for their hard ivory, declined an astonishing 62% over the past ten years, a pace that spells extinction within the next decade.
But the illegal ivory trade is not just a threat to elephants. The increasing scale and sophistication of the poachers and smugglers suggests the involvement of organized crime and militarized rebel organizations with networks spanning national boundaries. These groups threaten stability and peace well beyond the forests and savannas the elephants roam. The tremendous profit made from a shipment of illegal ivory then finances violence elsewhere, much in the same way blood diamonds funded human conflict in past decades.
It remains in China's best interest to see an end to this bloody trade. The 2011 ban on ivory in auction houses and the 2012 ban on online sales both represent positive steps towards this end. Continued seizures, arrests, and prosecutions demonstrate a dedication to cracking down on the illegal trade. Unfortunately, the legal trade is also part of the problem, deceiving consumers into believing their purchases are sanctioned by the state. And a growing middle class further burdens already taxed elephant populations.
As the mounting death toll illustrates, it is not enough to target smugglers and range states alone — destination markets must enforce stricter measures as well. Evidence suggests as much as 50% of the world's ivory is destined for Chinese markets, requiring about 220 tons of raw ivory, or roughly 20,000 elephants, each year.
The current state of affairs suggests three areas for improvement:
Better education for consumers who don't fully comprehend the impact of their purchase. One survey suggests that seven out of ten Chinese consumers believe the ivory is harvested in a sustainable way. If they better understood the consequences for elephants — an early and brutal death — then they could make better purchasing decisions.
Better coordination with range states, sharing law enforcement resources and intelligence to crack down on the criminal networks responsible.
Better regulation culminating in a renewed ban on the sale of ivory in China.
The crisis facing Africa's elephants offers China an opportunity to lead the way, leveraging your growing influence in the world and establishing a model of international cooperation. Without Chinese cooperation and leadership on this matter, African elephants face a dire future, or worse, no future at all.