Tell Secretary Jewell: End Hydraulic Fracturing
17,040 signatures toward our 50,000 Goal
Sponsor: The Rainforest Site
The health and environmental consequences of hydraulic fracturing outweigh its economic benefits. Put an end to fracking.
---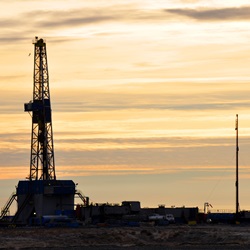 Hydraulic fracturing, or "fracking," is a form of natural gas extraction that has existed for decades. However, when energy companies began to combine fracking with horizontal drilling, natural gas production in the United States increased by more than thirty percent in just seven years.
While major energy companies and the federal government insist that the process is safe, local governments and environmental groups have expressed major concerns over the risks of fracking, which include: groundwater contamination, drought aggravation, increase of seismic activity (as a result of injecting wastewater into the ground), and health risks for humans, pets, & wildlife.
Secretary of the Interior Sally Jewell recently introduced a new energy plan that includes stricter regulations for hydraulic fracturing on public and Native American land. However, the new plan does not go far enough, and does not address many of the key dangers of the fracking process.
Tell Secretary Jewell it's time to end the oil and gas industry's stronghold on public policy and to support a strong renewable energy agenda.
Watch this short animation to learn more about the process of hydraulic fracturing:
To Top
The Petition:
Dear Secretary Jewell,
While I appreciate the steps you have taken to strengthen regulations for hydraulic fracturing, it is clear that your final rule does not do enough to curtail the environmental and health damages that result from the fracturing process.
You rely heavily on individual states to protect the environment and public health — but state officials have proven that they value corporate interests over the concerns of their own citizens when it comes to hydraulic fracturing. A judge in Pennsylvania, for instance, upheld a gag order that prevented physicians from warning the public about the health risks associated with fracking. More recently, Ohio's Supreme Court ruled that municipalities have no say regarding drilling that occurs within their own borders, with a strong dissenting opinion that suggested the decision was influenced by campaign contributions.
Furthermore, you show concerns over water contamination resulting from wastewater disposal, but ignore the U.S. Geological Survey's conclusion that ground injection of wastewater induces earthquake activity in non-seismic zones. Worse, analysis of conditions in the western contiguous United States predict some areas will experience the worst drought seen in a millennium, yet fracking companies continue to siphon billions of gallons of water from some of the most affected areas.
You say that each decision you make is driven by the responsibility you feel for your grandchildren's generation, so I ask you this: Will your grandchildren need water to drink, and clean air to breathe? Will they require stable tectonic plates on which to build their homes? Will your grandchildren, thirty or forty years from now, benefit from your commitment to the ongoing success of the oil and gas industry? Will any of us, those who do not invest in oil and gas, benefit from your continued endorsement of deadly fossil fuels?
If you truly care about future generations, you will take a stand against an industry that so clearly values profit over the continued sustenance of our planet and the life thereon. Tell the oil and gas industry that it's time for a new change in climate, and that renewable energy is the way of the immediate — not distant — future.
Thank you.