Urge the DOT: It's Time to Go Green
9,531 signatures toward our 20,000 Goal
Sponsor: The Rainforest Site
Tell the Department of Transportation to increase the regulations for trucking emissions.
---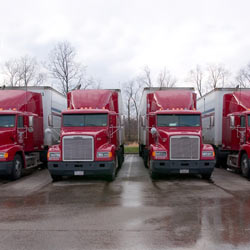 Some of America's most destructive pollution originates with our commercial trucking industry. Large trucks that carry the commodities we enjoy contribute greatly to carbon emissions; and they don't help promote the independence from the oil industry that we are so desperately working toward. Though domestic and international transport of everyday goods is necessary, there are ways we can reduce the effect the emissions are having on our planet.
We need to implement stricter regulations for trucking emissions. We already have legislation in place that limits emissions for regular modes of transport, and now is the time to address the larger vehicles that are also adding to Earth's pollution. Sign the petition urging the Department of Transportation (DOT) to hold trucking companies responsible for their own contribution to global warming and implement stricter standards for emissions.
To Top
The Petition:
Dear Secretary Ray LaHood:
I am gravely concerned about the health of our planet and I believe that the commercial trucking industry is contributing to it greatly. The transportation of commodities we enjoy is necessary, which is why we need to enact stricter standards for the vehicles that carry them.
Large trucks like 18-wheelers use about 20% of our nation's oil supply. If we continue to allow this kind of consumption, we aren't taking strides toward energy independence. Whether you agree with oil drilling or not, you can certainly concede that dependence on foreign sources for such a precious resource is antithetical to progress as a nation.
The USA leads the world in many areas, yet we are the worst polluter on the planet. Please do your part to help us become more energy-independent and enact more strenuous regulations for truck emissions.
Thank you for your time.
To Top
Updates:
7/25/2014: Earlier this year, President Obama took executive action and ordered the DOT and EPA to draft emissions regulations for heavy-duty trucks by March 2015. The new standards, if instituted properly, should drive down total U.S. carbon consumption by limiting its use by some of the worst gas-guzzlers on the road. Take action and tell the DOT that they need to take the president's order seriously, and that it's time to go green -- sign the petition!