Choose Accountability Over Profit: End Inhumane Research Practices
10,001 signatures toward our 40,000 Goal
Sponsor: The Rainforest Site
Tell the USDA to end its cruel and deadly treatment of livestock to help meat producers turn a profit.
---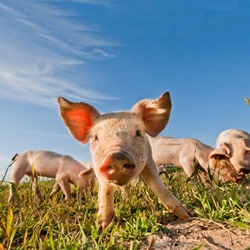 The United States Meat Animal Research Center (USMARC) has been ignoring animal rights and welfare since its inception in 1964. An estimated 6,500 of the animals housed at USMARC have died from starvation in just the last thirty years. Livestock at the facility have been specially bred to produce more offspring than normal, resulting in particularly weak and vulnerable progeny — those that survive often have debilitating deformities. Pigs are kept in four-foot-square pens, pregnant domesticated sheep are pushed into vast fields to fend for themselves, and cattle endure unusually brutal care.
Two years after the center opened, mass public outcry against animal cruelty resulted in the Animal Welfare Act — although farm animals used in research that promised to benefit agriculture remained exempt from protections. Research facilities such as USMARC, overseen by the U.S. Department of Agriculture (USDA), were expected to self-regulate. However, despite the Agriculture Department's crack-downs on animal abuse at private research facilities, it allows the publicly-funded USMARC to treat animals as they see fit.
The center's cruelty has not paid off, and its attempts to improve agriculture through experimental research have caused a staggering increase in death-rates among livestock industry-wide.
Tell the USDA's Secretary of Agriculture to end these cruel and unusual experiments — it's time to hold the U.S. Meat Animal Research Center accountable for its inhumane practices!
To Top
The Petition:
To the USDA's Secretary of Agriculture,
Because of recent revelations regarding the treatment of livestock at the U.S. Meat Animal Research Center (USMARC) in Clay Center, Nebraska, I implore you to take action against the systemic cruelty toward animals occurring daily at this facility.
The Animal Welfare Act of 1966, enacted by the will of the People of the United States, exists to protect non-human animals from the pain and suffering that the livestock at USMARC continue to endure. In lieu of external oversight, the center had agreed to regulate its own animal care procedures. However, evidence (or lack thereof) suggests that it has consistently failed to do so.
When asked for the minutes of a decade's worth of committee meetings, which are intended to evaluate animal safety for each experiment, USMARC was only able to provide notes from a single session — in which there is no mention of animal well-being. When New York Times reporter Michael Moss interviewed former employees, their testimony was equally disturbing.
Veterinarian James Keen, employed at USMARC for twenty-four years, said, "They pay tons of attention to increasing animal production, and just a pebble-sized concern to animal welfare... it probably looks fine to them because they're not thinking about it, and they're not being held accountable."
Indeed, USMARC appears to be much more concerned with profit than with the humane treatment of its animals — a mentality that does not reflect the interests of the public, to whom you have pledged your service. Therefore, I urge you to end these cruel experiments, and to at last hold your department to the same standards you require of everyone else.
Thank you.