Tell Exxon: Clean Up Your Act!
Final signature count: 14,855
Sponsor: The Rainforest Site
Exxon is the culprit behind yet ANOTHER oil spill. Tell Exxon to clean up its act!
---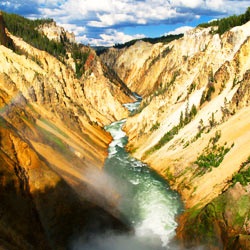 Another oil spill plagues a majestic natural area of the United States. In July 2011, an Exxon oil pipeline ruptured under the Yellowstone River and emitted tens of thousands of gallons of oil into the river. Since the spill, the oil has dispersed throughout the region, sickening humans and putting plant and animal life in critical danger.
Even worse, Exxon was notified in 2010 of potential weaknesses in the pipeline and didn't take the correct safety precautions to fix the problems. Given the seriousness of the assessments, Exxon should have responded immediately. Yet, the company stood by and did nothing, and now Yellowstone is suffering.
It's time that oil giants learn to put the environment before profit. It's appalling that Exxon would allow problems that may have been fixed to result in an oil spill.
Write to Exxon telling them to do the right thing. Clean up the spill and reexamine the way they are overseeing their pipelines!
To Top
The Petition:
Dear Exxon Chairman and CEO Rex Tillerson,
With all of the destruction that oil spills have caused America's landscape of late, I am astounded at Exxon's sheer ignorance when it comes to its oil pipeline that underlies the Yellowstone River.
In early July 2011, the pipeline ruptured and spilled tens of thousands of gallons of oil into the surrounding area. As a result, humans are experiencing sicknesses and plants and animals are gravely threatened.
Made public was the fact that in July of 2010, Exxon was warned about potential problems regarding the safety of the pipeline. But Exxon did nothing about it.
Now, because of Exxon's negligence, the residents and animals who inhabit the surrounding areas are suffering the consequences.
Exxon, it's time you take responsibility for your actions. You need to clean up the spill and provide restitution for those who have been affected. Then, you must reexamine the way in which you are managing your dangerous pipelines.
It is time to do the right thing or simply stop doing business.
Thank you for your time.