Tell Canada to Protect the Great Bear Rainforest!
43,136 signatures toward our 50,000 Goal
Sponsor: The Rainforest Site
An oil company is planning on building a pipeline right near the Great Bear Rainforest, gravely threatening its animal life.
---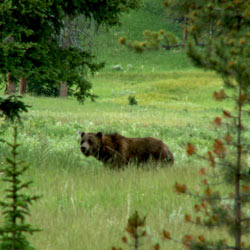 Enbridge Inc. is a Canada-based oil corporation that specializes in crude oil pipelines. Enbridge plans on building an oil pipeline throughout British Columbia's majestic Great Bear Rainforest. The rainforest is home to many unusual plants and wildlife, including the 1,000-year-old Western Red Cedar, and the white "spirit bear."
Enbridge has a checkered history of oil spills. A report issued by Enbridge itself noted at least 700 pipeline spills from 1999 to 2009. As a supposed expert in the oil industry, it's nothing short of outrageous that Enbridge has allowed so many spills to occur. If they're not monitoring their own pipelines, what exactly is Enbridge doing?
Why would we allow such an irresponsible company to continue building pipelines, knowing its prior history with them? Send a message to Canadian Prime Minister Justin Trudeau asking him to enact legislation that will ban oil pipelines from being built in this pristine rainforest.
To Top
The Petition:
Dear Prime Minister Justin Trudeau:
I am writing to seek your support for Canada's Great Bear Rainforest. Enbridge, a Canada-based crude oil company, is planning to construct an oil pipeline that could greatly endanger the Great Bear Rainforest. The pristine forest is home to many unique species of plants and animals, such as the 1,000 year old Western Red Cedar, cougars, salmon, and the rare Kermode bear, to name a few. The Great Bear Rainforest is one of the few rainforests left in the world that hasn't yet been touched by human intervention or commercialization.
However, Enbridge's plans to build the pipeline gravely threaten this beautiful forest. In the past ten years, Enbridge has been responsible for over 700 oil spills and an innumerable loss of plant and animal life.
I don't understand how a company as irresponsible as Enbridge is allowed to move forward with plans that could devastate a region and all of the life in it. Please enact legislation that will ban oil pipelines from being built near this pristine rainforest and stop Enbridge from destroying anymore precious life on Earth.
Thank you for considering my comments.
To Top
Updates:
In December of 2013, an independent panel from Canada's National Energy Board recommended the federal government approve the pipeline with conditions. Environmental groups and the First Nations are planning to fight the decision. Stand with them and voice your opposition to the presence of a pipeline in the Great Bear Rainforest! Sign today!