Help Create a Nuclear-Free World!
9,084 signatures toward our 20,000 Goal
Sponsor: The Rainforest Site
Tell the nations around the world to work together to eliminate the need for harmful nuclear energy!
---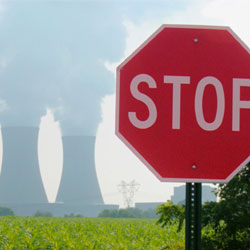 On Friday, March 11, 2011, shortly following a 9.0 earthquake, a gigantic tsunami hit the shores of Japan. The tsunami and subsequent damage to the Fukushima nuclear power plant in Japan has raised grave concerns about the nuclear industry and its implications for our environment. Deadly radiation leakages currently threaten human health all over the world.
Harnessing nuclear power already contributes to global warming, and now it's directly responsible for countless deaths and sicknesses. In light of these tragic events, now is the time to speak out to our world leaders about the dangers of nuclear energy. Even though nuclear power poses great risks to human health, much of the world still relies on it.
Sign the petition lobbying the United Nations to come together and vow to work toward creating a nuclear-free world.
To Top
The Petition:
Dear members of the United Nations:
It's time we take a closer look at the ways in which we are harnessing and producing the energy we use around the world. In light of the dangers in Japan following the massive earthquake and tsunami, it's clear that nuclear energy is threatening the health of humans and the health of our planet.
We may have been able to take this issue lightly before the disaster in Japan, but the loss of life and the potential loss of life as a result of the radiation leakages put an urgent emphasis on solving the nuclear problem. We simply cannot continue as usual.
Let's hasten the pursuit to come up with with better alternatives to nuclear energy. We know we're capable of discovering valuable resources that have proven to reduce the need for "dirty" energy sources and methods. Now is the time we tap into this capability.
Please work with each other to create cleaner energy sources so that we can avoid another nuclear disaster like the one that is still threatening Japan (and the rest of the world) today.
Thank you for your time.