Save Minnie From Exploitation and Death
33,704 signatures toward our 50,000 Goal
Sponsor: The Animal Rescue Site
The Commerford Zoo has already worked two elephants to death for profit. Stop them from doing the same to Minnie!
---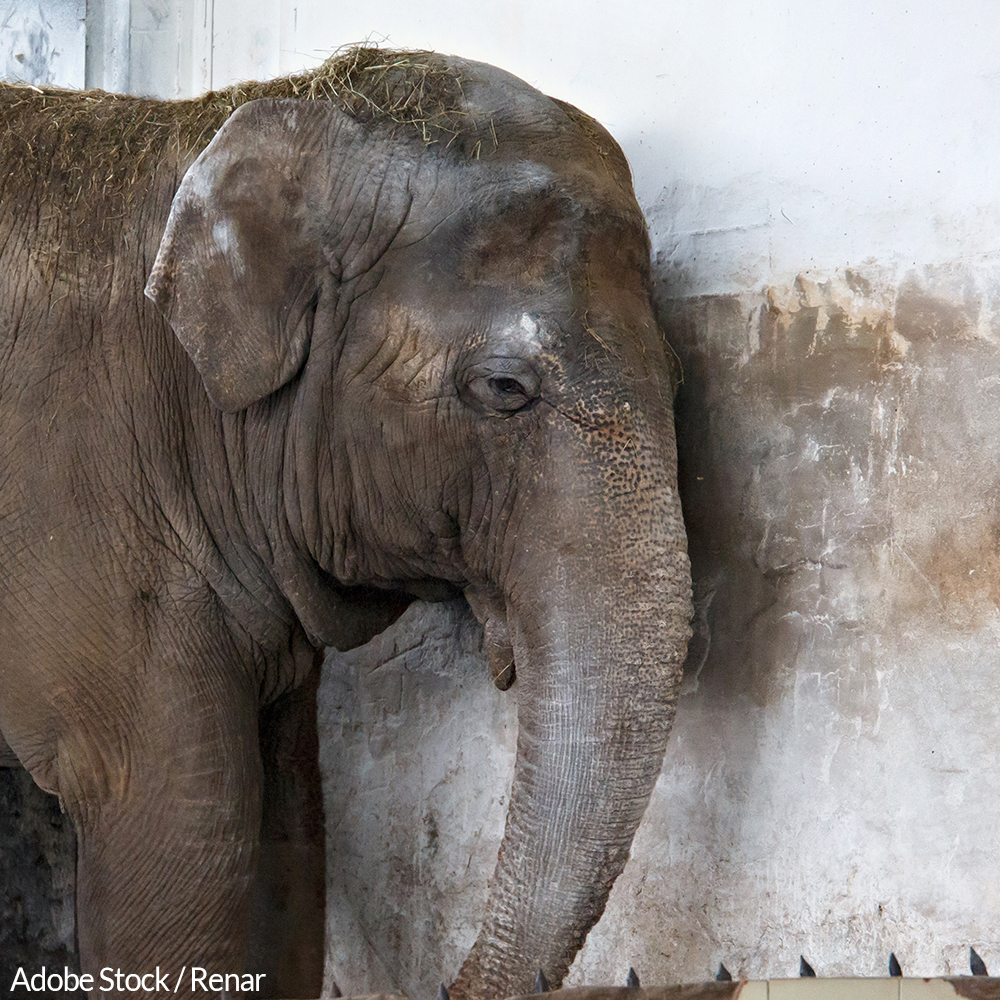 The whereabouts and welfare of Minnie1, a 48-year-old Asian elephant, are currently unknown but unless authorities conduct an emergency inspection she may be soon worked to death.
The Commerford Zoo in Goshen, Connecticut, is already responsible for the death of Beulah in 2019. Witnesses reported seeing the pain in her eyes, her only comfort a small patch of grass in a concrete parking lot the day before she died1. Nearby, a disinterested handler held a bull hook in one hand while staring at the phone in his other.
Beulah was not even the first elephant driven to death by the Commerford Zoo. An African elephant named Karen2, 38, died in March 2019 of kidney failure,
Elephants are not domesticated in the sense that dogs and cats have become 3, and they are certainly not being treated with the same love and compassion other pets are given.
Sadly, many people are not above paying for this "entertainment," much to the dismay of the elephants. In 2016, an elephant named Sambo collapsed and died of heart attack and heat stroke while carrying passengers around At Angkor Wat, in Cambodia 4. In 2006 in Massachusetts, two men were putting children on an elephant's back when the animal bumped them, breaking one man's arm. In 2009 in Indiana, a frightened elephant knocked over a mobile stairway, injuring several children at a circus5.
The Commerford zoo has set up an online funding campaign to subsidize the cost of Minnie's care, while also claiming to provide a "sanctuary" of their own. But the zoo is far from a sanctuary, The zoo has been cited by the USDA more than 50 times6 for violations of the Animal Welfare Act and the campaign description paints a dire picture of Minnie's future7. Due to COVID-19, the Commerford Zoo has lost income and is now in "desperate need of support" to provide Minnie with food, shelter, and the veterinary care she needs to survive.
Despite USDA citations and multiple deaths, the zoo has kept its license and continues to exploit elephants. The minutes of a Town of Goshen Planning & Zoning Commission Meeting on May 26, 2020, indicate that the Commerford Zoo still intends to force Minnie to give rides to its visitors1.
Minnie's only hope is that the Town of Goshen Board of Selectmen request an emergency inspection of the Commerford Zoo to report on her health. Add your signature to the petition below and demand this emergency inspection now.
To Top
The Petition:
Dear Town of Goshen Board of Selectmen,
Minnie, a 48-year-old Asian elephant. is currently held captive by the failing Commerford Zoo, which intends to work her to death if she doesn't die from neglect first. The zoo admits on its own online fundraising page that it needs $2.4 million to properly feed, shelter, and care for Minnie, and has so far raised less than a tenth of a percent of that goal.
With at least 50 USDA citations and multiple elephant deaths on its record, this zoo's license should be revoked. Though that may not be in your power, you can save Minnie's life by asking the USDA to intercede in her otherwise likely death.
Dozens of countries around the world have banned elephant exploitation. They have outlawed the very practices that the Commerford Zoo said it intends to put Minnie through during your meeting on May 26, 2020.
I demand that you request an emergency inspection of the Commerford Zoo to report on Minnie's health and save her life.
Sincerely,