Shell: Clean Up Or Get Out
Final signature count: 18,646
Sponsor: The Rainforest Site
Don't let Shell Oil continue to wreak havoc on Nigeria with its perpetual oil spills!
---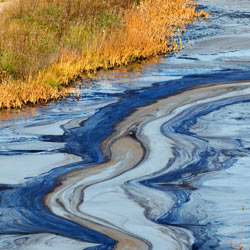 Will we ever see an end to oil spills? If it's up to Shell, the answer is no. In Nigeria, Shell is responsible for ongoing oil spills that have caused grave health problems, poisoned drinking water, and desolated the environment.
According to a 2013 report by Amnesty International, the hundreds of oil spills that occur in Nigeria each year are majorly attributable to faulty equipment and poor maintenance, rather than sabotage and theft as Shell has claimed. Spill investigators — who primarily consist of Shell employees — falsely ascribe the spills to sabotage and misrecord the volume spilled in order to avoid compensating affected communities.
Nigeria's National Oil Spill Detection and Response Agency (NOSDRA) has neither the funds nor the regulations to ensure that Shell is held responsible for their negligence, which allows the company to freely exploit the region without consequence.
Write to Nigerian President Goodluck Jonathan asking him to sanction Shell, and to require the company to compensate the people and restore the environments which their destructive, profit-motivated actions have affected.
To Top
The Petition:
Dear President Jonathan,
For years, Shell Oil has shown flagrant disregard for human, animal, and plant life by allowing hundreds of oil spills a year in the Niger Delta. Although Shell's own investigators often cite sabotage and theft as the main causes of these spills, Amnesty International (AI) has shown otherwise.
According to AI's "Bad Information" report, Shell has exploited NOSDRA's lack of sufficient oversight to intentionally misreport both the cause and volume of the oil spills in Nigeria for which the company is responsible. This constant deception equates to direct theft of compensation due to the Nigerian people, and sabotage of the Niger Delta.
Please do what is right for the people and habitats of your country and implement AI's recommendations, as outlined in their report, and hold Shell responsible for their ongoing disregard for the well-being of the communities and environments from which they siphon their profits.
Thank you.