Help Keep Coyote Fur Off Coat Hoods!
12,287 signatures toward our 30,000 Goal
Sponsor: The Rainforest Site
Help stop this company from using coyote fur for the sole purpose of keeping its customers warm!
---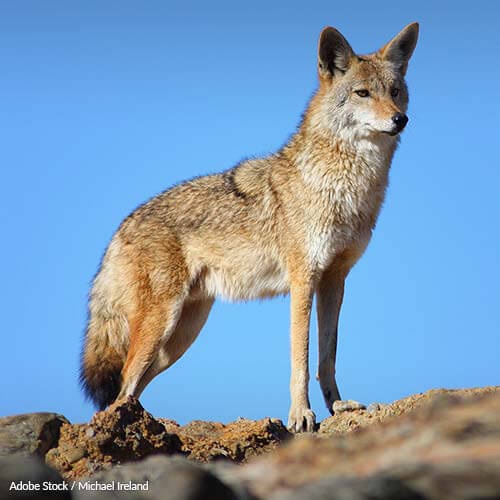 Fashion company Canada Goose uses coyote fur linings on the hoods of their coats; and while they say that they use only "ethically sourced down and fur," they also claim that coyotes are "considered a pest as they attack livestock, endangered prey species, pets and sometimes even people."
This company couldn't have it more wrong. In fact, coyotes are far from the wandering predators that many people seem to see them as. These animals are native to huge portions of the United States, Mexico, Central America, and Canada. They play significant roles within the ecosystems of these regions.
Contrary to Canada Goose's belief, coyotes very rarely attack humans. According to the Humane Society, "More people are killed by errant golf balls and flying champagne corks each year than are bitten by coyotes."
These incredibly adaptable animals have been misjudged by humans for a long time. Their family lives are extremely dedicated, with pairs that are generally monogamous for years at a time. Both parents care for their children, and the older offspring often help the parents take care of the babies.
Even though Canada Goose uses fur that has been sourced legally, it does not mean that coyotes should be subject to trapping so that people can have fur trim on their coat hood in order to "disrupt airflow and create turbulent air which helps protect the face from frostbite," as the company claims.
Sign below to stop Canada Goose from using real coyote fur as a coat hood lining.
To Top
The Petition:
Dear Canada Goose CEO, Dani Reiss,
Despite the fact that your company claims to use humanely-sourced coyote fur for the hoods of your coats, I have no desire to see real animal fur on clothing of any kind.
Coyotes are a large part of North America, and have been for a very long time. They live family lives much like your customers, and are rarely found doing anything that can harm human livelihoods.
These animals deserve better. There is no reason for them to be trapped or hunted on a regular basis, let alone have their fur used for "frostbite protection" that almost no one will ever need.
Stop trying to keep fur fashionable and let our world's animals live their lives as you would live your own.
Sincerely,